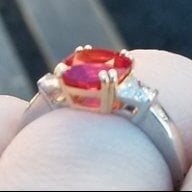 Joined

Nov 3, 2009
Messages

7,589
OK, here is the sad story. Last summer I ordered something from a jeweler from one neighboring country. The item was mailed me by Fedex. Apparently, Fedex paid $ 711.13 customs due. The invoice states that the "delivered value" was $ 13,000.000. Now the history becomes murky - the jeweler states that the Fedex worker misread the invoice (added "1" in front of the declared sum), Fedex says that 13k was the declared sum. Usually the sender keeps copy of the receipt. When I asked the jeweler to fax me the copy, I got nothing.

Now much as I happy with the item, I am not happy with the way this whole issue has been handled. I sent several e-mails to the jeweler to which I got no answers. Finally, when I threatened to discuss the situation on the PS, I got an e-mail indicating that she had called the FEDEX and the matter had been cleared. One year later, I am sent to collections by the FEDEX. Of course, there is a percentage now so I have to pay $ 810.69 but this is not the only issue. Apparently, FEDEX had paid the dues. And apparently, there was a mistake in the declaration. (If you look at the item... the price is not even close to $ 13 K!). And given the fact that I got no copy of the FEDEX receipt from the jeweler evokes certain thoughts... I am not the most organized person in the world, but I always keep copies of FEDEX receipts if these are business expenses!

Now I guess I'd better pay the money because the sum is only going to increase. And also, I am not happy that I have been sent to collections - it does spoil my credit record. But what can I do with the jeweler? She did not want to reimburse me, nor pay the Fedex. Merely said that the matter had been cleared. Just disregarded me. Now it has been "cleared" the worst way for me.

So what do I do to get my money back? Take her to small claims court? Report her to BBB? There should be an analog of BBB in Canada...I mean, someone must have been in such situation before.

If only it were the best jeweler in the world! She is good, but I probably could have gotten the same quality of work from any good local jeweler! PS is full of good names...