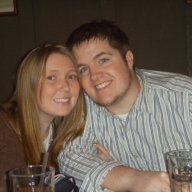 Joined

May 12, 2006
Messages

366
So....I got a phone call last night from a very good friend of mine who is a groomsmen in my wedding and also goes to school with me. He stated that he went out to the local mall to be fitted for the wedding and he was happy that the entire process only took a few minutes. I was like wait what....because I knew that when I went with my bro it was 15-20 minutes for him to put all the clothes on and such. He was like no man i didn''t have to put any clothes on and I have to call the Seno where you''re getting married to give them my measurements. I was like hold on a freakin second....so they didn''t have you try a jacket or pants or shoes or anything...and they''re making YOU call the store to give them the info? He was like yup..
Does this make any freakin sense to you guys? Shouldn''t the Seno store contact the Seno near my house to give them the meaurements? Also..why would they have me, my bro, and my dad all try tux stuff on but not this guy? The people at the Seno up here have been very crappy to us because our wedding is not really going through them. The only action they have is that they take the measurements and then call them to the other store. I''m not really sure why they would do this and my first reactoin is that they don''t care because we won''t be picking up or returning our tuxes there. You would think that since we rae using their chain that they would still be appreciative....unless the individual has good reasoning...I''m going to rip them a new one for not caring
We have a few weeks untli the wedding and it is unacceptable for them to just simply figure they know what size jacket exactly my groomsmen wears...if it doesn''t fit the day before the wedding that creates stress that I do not want to deal with that close to the wedding. Any thoughts?