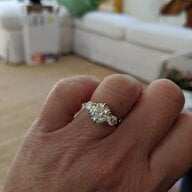 Joined

Jun 20, 2013
Messages

4,814
Hi, I have an offer on one of my LT items. The buyer is overseas and the customs form says "no loose stones or jewelry." I've been told to just write "craft item" or such, but I am worried that if it is opened at customs, that my address is on it and I could possibly get in trouble? Has anyone had any situations arise like this?

My other question is regarding final sale. I am selling final sale. If the buyer receives the ring, doesn't like it for some reason and tries to return or file a paypal dispute, will I be in a situation where I would have to refund money?

New to this and just want to cover all my bases... Thanks for any advice!