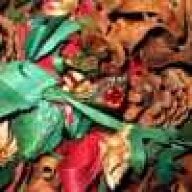 Joined

Jan 11, 2006
Messages

2,876
Any success or horror stories with sciatica? I've got it, for the first time in my life (age 3
, and wow, is it awful. I threw out my back in July by doing nothing more strenuous then bending over to put down a laundry basket and twisting at the same time. Cue excruciating lower back pain that lasted a week. Since then, I've had random muscular pains in my lower back, butt, and upper thigh. This past Saturday I woke up and almost passed out when I got out of bed because it hurt so badly. Later that morning, I tried to sit down and parts of my leg and feet started tingling and feeling numb. I immediately made an appointment to see my doctor, which was yesterday.
X-rays don't show any disc damage (herniation or rupture), so the doc thinks I just have an inflamed muscle that is trapping and irritating the sciatic nerve. Three prescriptions later (NSAIDs and muscle relaxants), I can just barely stand to sit at my desk at work for 15 minutes, and the half-hour drive to work this morning made me nearly homicidal. Perversely, I have a high quality, ergonomic Aeron chair and still the only "comfortable" position is to slump in it with my legs stretched out. At least it gives me an excuse to stop working every 20 minutes or so and wander around.
This doesn't seem to be something that requires surgery, which is good, but on the other hand it means I don't really have any recourse other than painkillers, exercise, and patience. Things could be much, MUCH worse, but it's annoying to be so distracted and incapacitated by something so minor. Any suggestions?