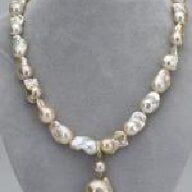 Joined

Feb 22, 2010
Messages

1,498
I first met Sarah this past spring at her studio in Oakland, California and got see her hard at work in her studio there. And again this past weekend at the Pearl Paradise 2011 Ruckus.
I asked her the preferred way to contact her with request for pearls. I have in the past said to call when you have a request but her reply was by email first. She travels a lot for business and no matter where she is she can reply in a timely manner. Also if you see something close to what you are looking for on her site reference the item number. That gives her an idea of what you are actually looking for in size and color, less guess work for her.
Now as to her web site. She does the design, stringing, photography in other words she does it all herself. Most of her stock never makes it on to the web site which I saw first hand. We talked about the number pictures she takes of each piece and the care she takes showing all aspects of the piece especially the marks on any pearl. So there won't be any surprises to the new owner.
I love meeting all the vendors written about here on Pricescope. Now if I ever get to Oz high on my list there is Catherine Cardellini.