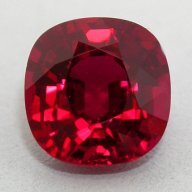 Joined

Aug 1, 2006
Messages

63
I''ve spent a long long time building a ruby engagement ring, because they are of historical significance to my perspective fiancés family. Now that I am getting closer to proposing, I want to try and explore the ring that inspired all this. Right now I know very little, but i''ll find out more as I talk to her mother.
How do I learn as much as I can about this rock, without sending it to a lab. I don't need hard core guaranteed science, as I''m not trying to determine value rather piece together a bit of romantic history.
It''s not a stellar stone, and is really pink set in yellow gold. It''s highly included, and cloudy, but cut symmetrically, and gives off a little light. I''ll get a better date when I can, but it was probably purchased in the early 1900''s no later than 1920. Again, I have no lab access, and 5 days to learn what I can. How do I find out everything I can about this ruby, or at least some cool facts about rubies purchased in this time period.