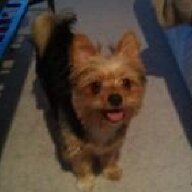 Joined

Apr 18, 2011
Messages

40
Hi All,
I recently received the ring from
WF
and love the diamond but am unsure about the setting's head. The Legato Sleek Pave setting itself looks great but the head (more specifically the prongs) don't seem to exactly line up. I'm somewhat obsessive and am annoyed by things like this regardless (square coasters not lining up with the ends of square tables
) so I wanted your opinions as to whether this is normal/ok.
I tried to get a pic of it. Let me know if I need to take another. You can see the lack of symmetry by focusing on the prongs compared to the band. I would expect each prong to be an equal distance from the setting. The only "normal" reason I can think of for it being different would be that they needed to bend the prongs that way to hold the diamond or it's because I asked them to try and prong a feather (which I assumed meant just rotating the diamond...).
Thanks for the advice!
EDIT: Couple more pics