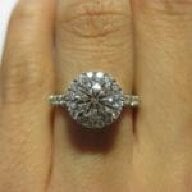 Joined

May 17, 2008
Messages

220
Hey Ladies!

So here is the thing... SO and I were talking about rings and all, and we don''t know if we want to get his mom involved! SO doesn''t really want to because it''s supposed to be "our" ring and we have a feeling she''ll have too much opinion on it, annoy my SO and get everyone upset.... BUT the thing is, she has a connection and knows a diamond wholesaler that sells loose diamond as well as pre-made settings for unbelievable prices (she recently purchased a 3-side pave band, double halo setting for less than $500... I saw it yesterday and went

). There is no way we can get those prices if she doesn''t bring us there (they are not open to public).
So should we be romantic, do our own thing and surprise her (at this point, she doesn''t even know an engagement is in the near future!), or be realistic and get her involve to save some major bucks?

IHB~