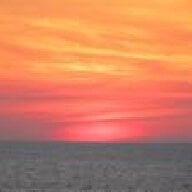 Joined

Sep 16, 2009
Messages

2,345
So I am on vacation in Iceland and we decided to take a ferry over to an island to go for a hike.

Pre hike we make a stop in "the oldest building in Iceland" to use the facilities and get some hot chocolate.

I'm in the basement of this nearly 300 year old building dealing with nature when I feel my wedding rings slip off of my freezing cold finger.

They fell straight into the toilet. I freaked out!!! Luckily I had a nitrile glove in my purse (I work in a lab) so I put that on. Not so lucky, the ring went FAR.

Yeah there I was in a public restroom in a country where I don't speak the language elbow deep in a toilet.

At least I managed to fish out my rings.

No amount of hand sanitizer is helping. I still feel that my arm is filthy.

When I found DH and told him what happened he said he's surprised I didn't leave it so I could upgrade. I didn't know an upgrade was even a possibility. Darn it.