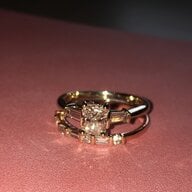 Joined

Mar 7, 2013
Messages

507
Good evening ladies (& gents) it has been awhile since I've posted. I had originally been proposed to w/ a halo engagement ring that was "floating" I guess you could say..anyway, it was beautiful but I really wanted my ideal ring to be a halo flush instead of an airline/floating halo. So for New Year's Eve, my wonderful husband blessed me with a brand new ring upgrade. My original stone was a J, Si2, 1.02, excellent cut EGL International cut (which I know isn't that great) and so my husband got me an H, Si1, 1.00ct, medium fluoro, excellent cut EGL USA (which I have heard is closer to the GIA scale). The most important thing is that I wanted the stone to sit FLUSH with the halo, instead of sticking out. I had no idea he was going to get a brand new stone to go with the ring setting!! The stone is slightly smaller (1 carat vs 1.02 carats), but I am thrilled with it & I wanted to show off my new gem.
Let me know what you think & please be honest, (I am looking for validation here LOL!!)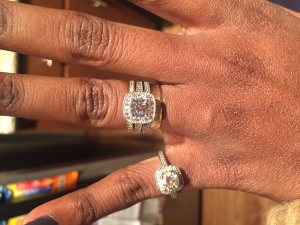 The original ring is on my pinky finger.