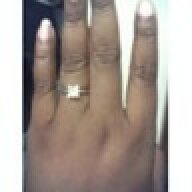 Joined

Jan 9, 2004
Messages

329
Accused Thief Swallows $7,000 Ring
AP
HOLLIS, N.H. (Feb. 13) - A house painter accused of taking a $7,000 diamond engagement ring from the condo he was working at apparently swallowed the evidence during a break from questioning at the police station - and it was caught on tape, police said Tuesday.
Kenny Narron, 44, of Richlands, N.C., was charged with theft and falsifying evidence. Doctors had to perform emergency surgery to get the 1.2-carat ring out. Narron was arraigned from his hospital bed.
Police say the ring had been hidden under a mattress in a condo in Merrimack that Narron had been hired to paint last month. The owner said he was hiding the ring for his brother, so his brother''s girlfriend wouldn''t see it until the time was right.
But the owner said one day, his 16-year-old son came home to find Narron coming out of the master bedroom, according to a police affidavit.
"The ring was kept under his mattress along with the paperwork ... he discovered his mattress askew and when he checked for the ring, he found it missing," the affdavit said.
Narron was questioned at the Hollis Police Department. When investigators left the room for a few minutes to make a few calls, a security camera in the room showed Narron swallowing the ring and putting a white jewelry box in a drawer. Police also said they came across torn up paperwork for the diamond.
"I''m not sure what goes through people''s minds when you''re in public and there''s cameras everywhere, but yeah, it is on tape," Lt. James Sartell said.