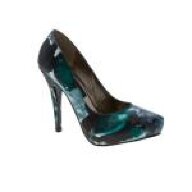 Joined

Apr 9, 2011
Messages

47
Hi ladies!
I haven't been such a regular poster because I felt sort of far away from the chance that I'd have anything to share but I'm dying of happiness inside to have a real update!
Last week bf took me on a surprise trip to look at settings.
I can be a bit picky with style stuff and so the last week has beend filled with talk of diamonds and rings! Finding something I truly live has been far more challenging than I thought it would be and I feel truly lucky to have a partner with amazing patience and who is so happy that I want to marry him as much as he wants to marry me that he is really enjoying the shopping process as much as I am. We have one more store to go to before I'm stepping be back and letting him make some final decisions. I think 2011 may be my year and I'm just so excited to share our plans with everyone!
Thanks for letting me share!