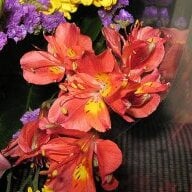 Joined

Jan 14, 2009
Messages

142
Which combination do you like better?
I don't know if this is the right place to post; it's just that since I don't have a picture of the stone to show, and I couldn't find a more appropriate board to post at.
NOTE: The main stone will be a light champagne color, so it's a warm shade. Also, my skin tone is light-neutral, so I can wear either yellow or white gold.
The ring below is an example of the style that I like. We'll have it custom made by a local jeweler.
Which idea do you like best?
1. The halo being a deep warm rose gold, the rest of the ring being 18K yellow gold. Would the 2 colors drown each other out since they're both intense?
2. The halo being rose gold, while the rest of the ring being white gold. Would the white gold here make the main diamond's warm hue look bad?
3. The halo being yellow gold, since that will make the stone's yellow color more intense. But, what color should the rest of the ring be, white? This combo somehow terrifying to me. Yellow and rose or rose and white would work, but yellow halo and white ring sounds pretty scary.
4. Something else?