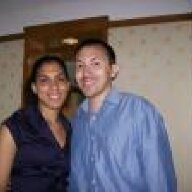 Joined

Mar 31, 2010
Messages

253
1) Do you know what kind of engagement ring you want? Diamond (or other stone), size, shape, metal type, side stones vs. solitaire, etc.? Post some pictures!
yes I do know what type of e-ring I want. I want a halo e-ring with a round diamond 0.80-0.90 ct. The metal it doesn't matter 14k or 18 white gold is fine but no yellow gold.


2) Does your FF know what you want? If not, will you tell him/give him some ideas, or leave it all up to him to choose?
He know exactly what I want. I showed him the diamond and setting although if he gets it is another story.

3) Will you/Did you go ring shopping with him? I didn't go ring shopping with him but I did try on a couple of rings in a store with him.

4) Do you have an idea of what his budget is? Yes I do know what his budget is. It was through these talks that I was able to convince him to up the budget a bit.

5) How about a wedding band? What do you like? Do you want it to be part of a matching set with the e-ring? I think I want a eternity band I'm thinking u prong around 0.70- 0.84 cts. It won't be part of the matching set.

6) Wedding band for you guy? Do you know what he likes? Do you want it to match your ring?
He doesn't really care what he gets. I'll probably end up getting him either a titanium carbide ring or a palladium band.

7) Finally - what don''t you like when it comes to rings! For your engagement ring, for your wedding ring or for his wedding ring! And it''s okay to be honest. We all have different tastes, likes/dislikes, etc.

I am not a big fan of solitaries. I mean I can appreciate their beauty but I need more bling. I also don't like yellow gold but I have some beautiful rings in yellow gold. I don't really care for big diamond I think those under a cart is more my style. Their is just something special and beautiful about smaller diamonds.