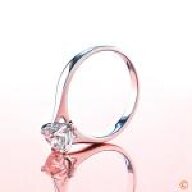 Joined

Aug 25, 2011
Messages

55
I'm picking up the ring tomorrow!
Exciting I know, I'm just concerned about the size of the ring box. It's from
Brian Gavin
and the few pictures I've seen / posts I've read seem to indicate that the box is rather large. That by itself isn't a huge issue, however, it makes it more difficult to hide in a jacket when carrying it around before the proposal.
Anyone have the
BGD
ring box that can attest to its size? How do you ladies feel about having the ring presented in a non-original box? That is to say… if I went and got a small ring box to hold the ring so it's easier to hide? I don't want to make it look cheap…. I want to present it in a box, therefore carrying the ring loose is out of the question. It also makes me more uncomfortable carrying it loose.
The current plan is during a trip to California this winter (coincidentally around Valentine's Day) I'm going to surprise her with a "Valentine's Day" hot air balloon ride. We have previously talked casually about going on a balloon ride that trip but she thought it was too expensive (we're poor university students haha) )so we decided to pass on that for now. Hopefully she won't suspect it's a proposal flight and just think it's a Valentine's Day present. I don't think she'll be on edge awaiting/suspecting a proposal until late spring or summer. Obviously if she notices the ring box that gives it away though…. Luckily it will be chilly, being February, so I can at least hide it in a jacket… but if the box is too large that will still be tricky...

So.. is the box nice? Is it worth risking using the bigger box or should I find a smaller nice one to use instead? If the latter, any suggestions? How possible is it to hid a box on your person? Does the girl usually notice it? Advice?
Thanks