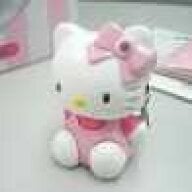 Joined

Mar 26, 2007
Messages

26
Now that we have our stone, I would write a glowing review of our experience with him.
To start off, we're located in Toronto, ON, Canada, so we don't have as ready access to the online retailers that you folks in the US have. I had been reading this forum for quite some time and read through all the tutorials here before we proceeded to look for our diamond. We were referred by a friend to a local wholesaler which had many stones right then and there for us to see, but overall I found the experience lacking as, maybe due to the inventory at the time, they did not have stones offerring both HIGH color and HIGH clarity - e.g. J VVS2 or E SI2 were the choices I seemed to be left to decide between. The most disappointing of all was that the Canadian diamonds all seem to come with GemScan certs, which really don't go beyond the 4 Cs in grading the stone. In fact, the GemScan cert didn't even have detailed measurements of the stones! We didn't feel comfortable to purchase based on just the 4Cs without being able to run the measurements on the HCA first.
At this point, I had read some excellent reviews of USA Certed Diamonds here on pricescope so we decided to give Martin a call - although I have to say I wasn't expecting much since the website was a little tricky to navigate. We met with him at his home office and told him my specifications (D to F, VS1 to SI1, Ideal Cut H&A), and he proceeded to plug these numbers into his computer. We sorted through the result and narrowed it down to a list of three diamonds with AGS000 rating. Of the three diamonds available at that time - one was on hold for another customer, another was eliminated by HCA, and we were down to the final candidate. Martin immediately emailed me copies of the certification and a maginfied image of the diamond. The stone looked magnificant, but we were still a little hesitant about buying based on a specification before actually visually seeing the stone - especially since this was our first big diamond purchase. We went back to Martin with a few questions, at which time he called the jewellers down in NYC in front of us to verify my further questions about the diamond - i.e. that it did have an H&A pattern, it was indeed eye-clean, etc. I mentioned to Martin I had seen the stone priced online at a competitor for ~$100 cheaper, to which Martin not only price-matched it, but took off an additional $20 - true to his price-match policy stated on his website. At this time, we were comfortable enough with the stone and with Martin's expertise (he mentioned his dad was in the business as well and that's how he got into it) so we put down a 50% deposit in order to have the diamond sent up from NYC here, with the stipulation that if the diamond met the AGS cert, we would buy it (apparently it's a hassle to return a diamond after getting it through customs). The total costs is calculated as follows: price x 1.02 (custom/broker fees) x 1.14 (GST + PST). Thank god the luxury tax got removed last year!
Once the diamond got here, Martin called us right away to let us know it arrived. We proceeded to open the box up together and Martin verified the stone. Martin did everything in front of us and with us, so we felt extremely confident and comfortable to see that we were actually getting what we paid for. We weighed it. We measured it. We viewed it under the H&A viewer. We viewed it under the loupe. We viewed it under the microscope. We viewed it with the GIA color specimens. We're absolutely thrilled with the way everything turned out - the beauty of the stone is indescribable and definitely better than anything I had seen at local jewellers!!!
So now we're off to finally get our ring design custom-made (this will probably take a while)! Note that since Martin is a registered gemmologist, he will also do the final appraisal for us (included), for insurance purposes, once it is all set and done.
So if anyone is local to Toronto or nearby, I totally recommend dealing with Martin if you're tempted with the online pricing and quality seen here on Pricescope but want the comfort of dealing with a local knowledgable jeweller.