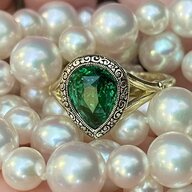 Joined

Mar 2, 2009
Messages

10,458
I thought it'd be interesting to review the things we DIYed and see if in hindsight it was worth doing it ourselves.
(I tried to link to images where I could)
Worth it:
1.
Cake toppers
- I painted little dolls to look like us in our martial arts uniforms, loved them
2.
Invitations
and
Programs
etc- I love designing and artsy stuff, it took a long, long, LONG time though, and many trial and error proofs.
3. Make up - I can't imagine fitting in another person and appointment into that day.
4.
Dress
- I designed a dress and had it made. Caused doubts and much anxiety, but worth it I think.
5. Goody bags for out of towners - This was just kind of fun. I enjoyed thinking of little things to put in.
6.
Favors
- we got favors (pearl bracelets for girls, keychains for guys) and assembled everything ourselves, much fun!
Not worth it:
1. Writing the escort cards/invitation envelopes
by hand
- printing would have been faster and easier, nobody would have cared.
2.
Centerpieces
- I thought about doing it myself, practiced a few, and just decided it would too much extra hassle, and when I asked the florist for a cost comparison, it wasn't enough of a difference for me to want to do it myself.
3. Setting up the reception area - it was kind of chaos. In hindsight, I might have hired someone like a Day-of-coordinator to take care of those details and keep track of that for everyone. Luckily my dad totally took it upon himself and pulled through for me.
4. Card box - this doesn't really count since I didn't try very hard and gave it rather quickly, what can I say, I'm not so good with the constructing of stuff it seems. I bought one at Michaels.
I guess I didn't have that much after all. Would be interested to hear what other people have found worth or not worth DIYing.