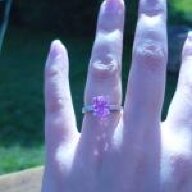 Joined

Apr 2, 2011
Messages

203
It's now a little more than a month until bf and I go away on our snow break and he's been talking about the trip every single day, checking the snow reports (not sure if i mentioned before, but he let slip that the proposal will include snow in some form


) He also spoke to his best mate the other day and told him about the proposal. After we get back, he's flying down to Melbourne for a boys weekend and he'll be 'formally' asking his mate to be best man. So I'm 100% certain the proposal will happen during our trip

I'm really happy and excited about what's coming and I can't wait to get my pink beauty on my finger, but at the same time, I'm feeling a reticence of sorts. It's like one chapter of my life is ending and that makes me somewhat sad. I can't explain it, I'm looking forward to the trip and the proposal but I'm also well aware of the fact the trip will be here before I know it. Hence the subject title, I don't get the sense that time is slowing down. In fact it seems to be the opposite.
Maybe i'm just having an off day and I'll go back to a full on raging LIW tomorrow...lol....but for now, I think I'll enjoy the sanity and peace that being a reverse LIW is giving me
Anyone else ever had that experience before?