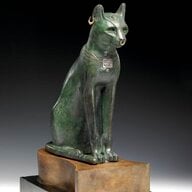 Joined

May 23, 2016
Messages

1,505
@lissyflo

I took your advice. I contacted David and Amy to see if they can find a stone to fit in the space. Amy said she will look. I don't think it will be easy..I may have to go out of my comfort zone with color if she finds something that fits..I don't want to trash that setting. I think it's pretty..It just didn't go well with Ashlee. I think a colored stone would be pretty.
Sorry
@MamaBee
, I missed your post and forgot to come back with a picture.
Here's my synthetic spinel (if I'm allowed to post it here - if not please delete, mods). If DK can't find something that fits, having synthetic rough cut is a cost effective option. The rough itself was negligible (I think $2 kind of negligible) so the cost was just in the cutting and I think from memory that was around $150, so really reasonable to make use of an existing setting.
The cutter used the report measurements of my original stone in combination with a zoomed in photo of it to work out where to place windmills etc. It's obviously a compromise on the coloured material to cut it to diamond parameters, but for a comparatively cheap fix to make use of a setting it was absolutely a compromise worth making for me. I think there's a little extra depth in the synthetic spinel than there was in the original stone, and the setting has enough height to accommodate that, but the outline from the top is exactly the same as the original centre stone.
If Dk can't find a pre-cut stone to work, maybe their cutter could do something similar with either synthetic or natural rough?