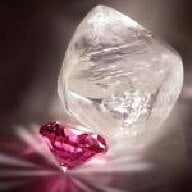 Joined

Jun 6, 2011
Messages

995
Hi, right now FCDs sit firmly on the fence of both rocky talk as well as the coloured gems sub forums.

Would appreciate if the moderators found it fit to open a subforum for FCDs due to their rather unique niche and the growing interest that we are seeing from forum members.

Very very broadly (and a bit of an over-generalisation) there is a predisposition for cut preference in the rocky talk forum, and a lot of colour love in the CS forum which puts FCDs in a sort of strange middle ground.

FCDs really do seem to belong much more to the CS forum, given that the industry treats them as very rare and precious gems valued for colour more than anything, but being diamonds, there are a few whose voice would love it if cuts were dramatically improved in these amazing gemstones - and if that small voice started here at PS!