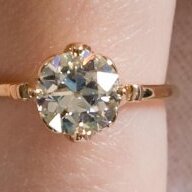 Joined

Mar 23, 2009
Messages

140
Reposting this from Rocky Talky to get some more valuable input! I figured the jewelry forum crowd may have some opinions.
Should I get this stone set in 18K yellow gold, or rose gold? I am getting a beautiful setting from Heart of Water Jewels (picture in next post), and just can't decide which would be best with my stone. I'm so torn! There has been great input on either side, and I just can't make up my mind. ARGH!!!

Thanks in advance for your help, PS is a lifesaver!