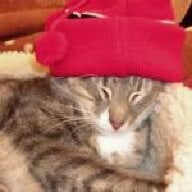 Joined

Aug 14, 2009
Messages

26,390
I posted a thread earlier and had it deleted, I think I'm calm enough now to coherently solicit advice
DH, MIL, and I are flying with three cats (in the cabin) tomorrow from San Francisco to Philadelphia. Here's what I've done/got so far to prepare:
- Sedatives. I'm thinking we'll give them 1/4 tablet each about an hour before we leave for the airport, as I think the airport will be the most stressful part, and wait and see if anything else is even necessary - I'm hoping they'll just sleep! We did a trial run - they were all knocked out, no unfortunate side effects.
- Antihistamine - our boy has perpetual sinus trouble, so he'll get half a tablet if he seems to need it. We do have a stop (no plane change) so that's two landings and two takeoffs, and I know my ears are miserable if I have even the slightest sniffle so... we'll be on the lookout.
- 3 carriers confirmed okay for flight, Southwest has confirmed the cats have spots on our plane.
- Baby animal wipes
- Small packet of food
- Bottle of litter and spare shoebox, lots of gloves and rubbish bags
- Extra carrier mats (one per box)
- Small bowl for water (we'll just get a water bottle at the airport)
- Directions from all airports to the nearest 24hr emergency vet
- Medical histories and travel papers for all three cats, proof of rabies vaccine papers, microchip numbers
- Harnesses and leashes
Does anyone have any other advice on things we should take? Tips to get through security? Things to look for to decide if they need sedation or antihistamine - or *not* to?