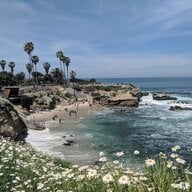 Joined

Aug 28, 2011
Messages

155
Hi PSers. I'm not sure why I'm posting. I think I pretty much know all the advice I can be given, but you're a wise bunch so who knows.
Here's my story for whoever feels like reading. I got divorced almost 3 yrs ago from a man I was with for 14 yrs, including 4 yrs married. I won't go into details on that, but it was one of those situations that would never have worked out even though we were two good people, just not good for each other. I went through 2 really difficult years at the end and really tried my best, but in the end I decided to let go and never once looked back. I was suddenly single at 33, scared, optimistic and happy at the same time.
I signed up for online dating not knowing what to expect, and set up my first date about a month after I moved out on my own. I wasn't expecting at all that I would fall in love with the first man I met. I was conflicted for a while about getting into a serious relationship so fast, and he was apprehensive about my very recent separation, but it worked out for us and we were blissfully happy. Within a year we were talking marriage and house and spending our lives together and everything was perfect.
At about the 1.5 yr mark we decided that I would move into his place because it was bigger than mine, and we didn't want to rent somewhere new and be tied to a 1-year lease because we wanted to look for a house soon. Around the same time he brought up getting engaged seriously, asked me for details on diamonds and the kind of ring I wanted, and I pointed him straight to
Victor Canera
, even got a quote, etc. That's when I started lurking on PS. He strongly hinted that he didn't want me still holding on to my engagement and wedding rings when we moved in together, so I sold them even though I would've preferred to re-set the diamond. I was so sad to leave my place that I loved and there was a bit of tension around that time, but I figured it was just because there's never a good time to uproot your life, but I was willing to make the effort to move our relationship forward. Things were a bit rocky at first when I moved, but I think it was just us learning to live together. We're both clean and perfectionists, and had our own ways of doing things, so it was a matter of compromising and falling into a new routine. I think we did well and got over that, at least that's my perception.
We talked about looking for a house, but he's very risk averse and was spooked by the housing market, which around that time was doing things even more crazy than usual. Eventually we had a talk where he admitted that he was just not ready, so I let it go and decided to be patient. There was also no more talk of engagement, but again I decided not to press the issue and let him do it on his own time. I didn't think there were any problems with our relationship.
In spring of this year we were notified that we had to leave our rental condo. It's never a good time to be told you have to uproot your life and it's not your choice. At first he said this was the time for us to buy a house, then a few weeks later I had to sit him down again to find out what's up and he admitted again that he's not ready. So I stepped back again and looked for another rental. We had been paying below-market rent, so everything else seemed expensive, and he didn't seem ok with anything. Finally three weeks before our lease was to end and we hadn't found a new place, he dropped the bomb that he wanted to try living separately for a while. He thought that would bring us back to the place where we were so blissfully happy and he was so sure about us, and then we could finally move forward being sure. At first I said no, but we were still living together and we seemed fine otherwise, so instead of going through the difficulty of breaking up right then while trying to find a place and move, I agreed to do our separate moves and decide later on.
So there I was, moving for the third time in 2.5 yrs, and with the crazy housing market came crazy rents, so I ended up paying much more for my new place and feeling like I will barely scrape by. But it still felt to me like our relationship was strong. I didn't understand what was holding him back, but I was willing to give him the space to figure it out. I was convinced it wasn't me, that it was just him and some sort of fear of commitment or who knows what. I was beyond understanding when really I felt like every step of the way the situation was unfair to me. I withdrew a bit, in a way to protect myself in case we really did break up. Being in limbo was killing me. Actually it was less than 2 months. We were still having good times together and I felt like he still cared for me and loved me just as much, but I didn't feel like we were addressing any of the issues, just coasting on. The situation was really hard on me and I told him at one point that I can't keep going like this. He promised that he was really committed and agreed that the situation wasn't fair to me and that he would make our relationship a priority, and I believed that he meant it and I decided to recommit myself 100% instead of holding back. Days later he left for a work trip. I took him to the airport and all seemed well. Somehow during that week he became distant, for the first time I felt like he wasn't there anymore. I knew he was busy with work, but it felt like more than that. When we finally had a chance to video chat I confronted him about it and he was really distant and didn't have much to say. The only thing he said was that he was worried we were only together because it was comfortable. I told him I disagreed and I had made it clear how I felt, so if he wasn't in it anymore then that was that. He seemed upset but kind of agreed, so we hung up and haven't had contact since.
This was about a week ago. It's been a rough week. I feel so hurt and lonely and lost. I alternate between thinking that it wasn't meant to be, and feeling like I won't find anyone else I have such a connection with. He wasn't perfect, but we were good in all the really important, fundamental ways. I already learned from my first marriage that the future is never guaranteed. I was happy enough with him for 12 years and it didn't even occur to me that we may not make it. Despite that hard life lesson, I still believed that happily ever after was possible. Now it's really hard to believe it anymore. I'm also almost 36 now. I do want children and I'm keenly aware that time is running out. I feel like I don't even have time to be single right now, I need be out there immediately if I want to have a chance at finding someone and having kids while I can. I'm also incredibly lonely and crave comfort, but I know that I can't meet anyone in this state. I checked out my old dating site and signed up for Tinder just for the heck of it, to try to wrap my head around dating again, and it feels impossible. I gave 100% to this relationship, and I just don't feel like I can do it again with someone else. Every guy I look at is just a stranger, with a million ways they could be wrong for me.
I really wrote way more than I had planned, and at the same time I would have to write ten times more to capture everything. I'm not even sure what advice I'm looking for, because I know that what I need to do is take care of myself to get through the next few weeks or months, and then get back out there with optimism. If anyone has any wisdom to share, please do. I just don't know how to get through these days.