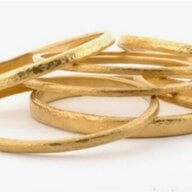 Joined

Jan 26, 2003
Messages

22,107
Jan and Brad (Diamond Brokers of Florida) just sold me two pear shaped diamonds to mount with the red spinel they sold me previously. (This is a slow project, folks!) The pears aren't large, but I am hoping they don't overwhelm the spinel. Brad originally photographed the spinel with two pears he happened to have in his store and I got used to seeing it flanked by those, smaller, pears.
Maybe I will post that old picture as well as the one of the stones I bought to show you the difference between the two "looks". Then everyone can comment on which look he prefers and why. Threads become interesting when everyone is asked for his opinion

. I am unsure whether this thread should be here in "Show Me The Ring" where finished diamond rings go or in the "Colored Stones" forum. After all, there is no ring (yet) and the center stone is a spinel. On the *OTHER* hand, the spinel is old news; it is the diamonds which are the *NEW* purchase.
What to do? Etiquette, etiquette!!!