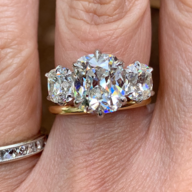 Joined

Jul 27, 2005
Messages

4,165
Date: 3/23/2007 9:37:37 PM
Author: Beacon
Awesome call KD on the BeneFit lip silkys! Finally I am un-sick enuf to do something, so I went to Bloomingdales in Stanford and lo and behold, they have those silky finish lipstick/glosses. They just got them in.

This thing could seriously be my new best friend. I bought 'RocketPop'. Love the color and the amount of coverage - not overly heavy. I am totally enamoured by the texture of these things. Maybe the best lipgloss/lipstick I ever put on. And perfect for the nice weather we have out right now.

When I am in a more vigorous mood, I'll go there again and check the whole range of those silkys. It's definitely one I can use in a bunch of colors.

It really brightened up my Friday!!
YAY!!!!

I'm so glad you like the Lip Silkys! Seriously, they're like the next best thing since sliced bread. Like you said -- perfect texture, perfect coverage, light and natural looking but still "there" enough to make your lips look fuller somehow. I have 2 colors but I'm dying to go back for more! I don't normally get excited about makeup, in fact, I'm SO not a makeup girl (I have 2 eye shadow compacts and that's it. 1 powder, 1 blush, and 1 foundation. I do love lip things though -- I have 12 lip glosses!) but this lipstick/gloss product has me really fired up! I'm predicting that people will catch on quick and they'll be hard to find pretty soon.