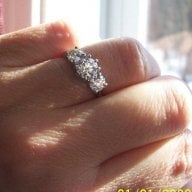 Joined

Mar 29, 2007
Messages

257
I received my ring today and was so happy with it that I sent the follwing email to Todd Gray at NiceIce:
This ring is THE MOST GEORGEOUS RING I HAVE EVER SEEN IN MY ENTIRE LIFE!!! I cannot believe how beautiful it is. It sparkles like crazy, it is set at the perfect height, I am so glad I picked the Royal Crown setting. Love it, Love it, Love it!
You were right - it looked great in the pictures but it is absolutely stunning in person. I am so incredibly happy!
Todd you are the best! It was a pleasure talking to you the other day.
I will try to get hand shots as soon as I can - tried this afternoon but they came out blurry.