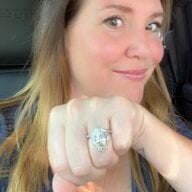 Joined

Oct 14, 2018
Messages

732
@RetroQT

THAT DRESS is amazing, like I don't know how to say this without coming off all awkward, but you look spectacular in it!

Your rings look perfect there on your hand too, love the whole look!
I was thinking the same thing & decided it might not be very PC to comment! But what dress & what a figure

@RetroQT

!
Y'all are both amazing!!! Thank you for the very sweet and sincere compliments.
The dress is Calvin Klein and I found it at Marshalls. It's super comfy and fits just right. Thanks to the design it makes me look better than most maxi dresses. LOL!