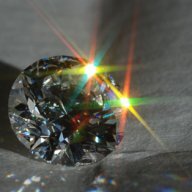 Joined

Sep 20, 2006
Messages

72
Hi Everyone,
I''ve been lurking for several months and can''t believe how much I''ve learned about diamonds thanks to all of you. But now that it''s time for the final exam I feel like I could use some help. I''d love your thoughts on this diamond:
http://www.whiteflash.com/round_ideal_cut/Round-Ideal-Cut-cut-diamond-58818.htm
Item Code: GIA-15051038
. Report: GIA
. Shape: Round Ideal Cut
. Carat: 1.53
. Depth %: 60.9
. Table %: 55
. Crown Angle: 35
. Pavilion Angle: 40.8
. Girdle: Very Thin to Thin
. Measurements: 7.48-7.50X4.56
. Polish: Very Good
. Symmetry: Excellent
. Culet: None
. Fluorescence: None
HCA=1.4 (1 according to Sarin)
I had been looking for slightly better color and potentially less clarity, but I''ll have to decide for myself what my priorities are there. I''m really interested in predictions of light performance/visual appeal. I was originally attracted to the IS image, is it as good as my initial impression suggested? I''m even less comfortable interpreting the ASET, does it tell you anything else? Any thoughts on the proportions? They look good to me, though I''m wondering if the crown is a little steep.
The very thin girdle scares me a little; I like what it''s probably doing for spread but should I be worried about durability? The stone would likely be set in a Mark Patterson pave split (4) prong.
Thanks so much in advance for opinions on these questions and any other thoughts you might have.
Dave