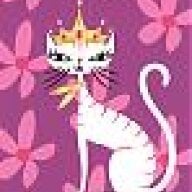 Joined

Mar 15, 2004
Messages

6,825
Does anyone know anything about Raymoure Flanigan quality?
I've been looking and looking for the right tv console and i love the style of it and I bought it...In the world of good furniture, $699 is terribly cheap...I am worried it's too cheap....They do say that for 5 years they come and fix any scratches, dings, etc...
the sides of it seemed to be a tax particle-boardishish... I dunno...The feet aren't as mod as they look and I'm putting dark hardware on it...
I know that $699 is a lot of money, but for furniture of this size and purpose I don't know if that's enough..
I also know they are owned by Walmart....I'm wondering if this is glorified Walmart furniture...which is fine, but not for $699...
Anyone? I have to cancel today if I want to....
BTW, some guy on CraigsList is selling this exact piece for $350....it's 5 months old....Why? is it total crap?