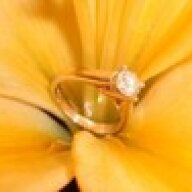 Joined

Aug 8, 2008
Messages

847
Have any other LIW had strange dreams while waiting for their SO to propose or am I just going crazy?
Background Info:
Bf and I have been together for 3 and 1/2 years. We started our search for a diamond last October (when I stumbled upon pricescope while researching the 4 cs!). We found the perfect RB diamond in late November, and he bought it early december. Last month, We decided on a custom pink gold solitaire setting that still has to be made. The jeweler told us they would have a cast of the setting made for us to approve before they made it in gold.
I think bf is planning on proposing this december (around our 4 year anniversary).
The Dream:
Last night, I dreamt that I went to a random house that had some sort of random party going on. When I walked in the door, one of my friends (not sure who) rand up to me and congratulated me on getting engaged. I was very confused as i knew that BF hadn''t proposed to me. She explained that he had told her, his family (some of whom were actually at the party) and the rest of the random party-goers that he was going to propose that very day (I knew that it was summer time and WAY earlier than I had expected to be proposed to). Nice of my friend to tell me and ruin any chance of surprise I had left, right

?
So, a little later, bf found me alone in a room, got down on one knee, said amazingly sweet things (can''t remember what though) and asked me to marry him. Even though the surprise was completely blown, I was ecstatic and immediately started bawling.
Then, he took out the ring box and opened it.
When I looked at the ring, i was completely shocked! It was the ugliest excuse for an ering I could have ever imagined. My pink "gold" trellis setting was actually poured bubblegum pink plastic that was probably 8mm wide. It had rhinestones pressed into the plastic on the left and right side. In my lovely vvs2 RB''s stead, was an oval shaped piece of glass that was glued into the pink plastic.
I freaked out! I said "Hunny, this isn''t our ring!!" He told me that it was and that he had just approved the cast a few weeks earlier (which I knew meant that we were stuck with it). I don''t remember what either of us said after that, but I remember being something like this guy ---->

I then woke up to my alarm going off.
This dream was strange for many reasons (beside the obvious ones):
*Summer proposal: bf told me he wants to wait until after our birthdays to propose (mine''s next month, his is in October)
*Bf telling the whole world he was going to propose: He decided that I was to be the first to find out that he''s proposing. (cutting out the whole "asking permission" thing). He''s not telling anyone we know ahead of time that he is going to propose. We want to tell everyone together.
*Wide band: I really don''t like plain, wide bands on my fingers. I wouldn''t choose 8 mm for my solitaire setting. Is that even possible?
*Rhinestones on either side of the "diamond": When searching for bands we made sure the jeweler knew that we wanted a plain solitaire setting with no diamonds on the side. When we get married, we are adding a wrap that will have diamonds on it.
*Oval shaped "diamond": We weren''t even considering any shape other than RB. I love the timeless look of round stones.
*BF approving the cast without me: He would never do that in real life. We have been planning on going to approve it together.
Soo.. has anyone else LIW or married, had a wierd dream like that?
Just for the heck of it, I''ll post pics of my REAL ring.
Here''s the only pic I have of the diamond and it''s kinda bad. There are glares on it from the case it''s in.