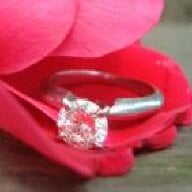 Joined

Jul 29, 2011
Messages

53
Maybe you already know this trick but...
Here's the situation. I have a vintage eternity band that isn't resizable. It fits my left hand, but in a way that feels very risky (like it's going to slip off at any moment) and it fits my right hand well. I've considered sizing beads, but decided I don't want to solder anything onto this beautiful antique. I know it's supposed to be reversible, but I don't really want all that heat and hot metal touching my ring. I also want to keep the flexibility of wearing on either hand (I tend to wear it on my right most of the time, but like the left too).
So here's the trick: I cut a quarter inch piece of clear aquarium tubing, snipped the sharp corners, and stuffed it under my ring on the palm side. It's barely noticeably visually or the way it feels on my finger. And the ring fits on my left hand *much* more securely now.
Just thought I'd share