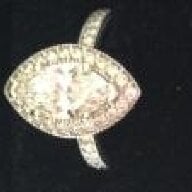 Joined

Jan 5, 2009
Messages

1,204
Hi there,

I am taking my platinum ring in to the jeweler in an hour so I would really appreciate any quick replies to my question before I leave.


I am having sizing beads added to my e-ring, which is a vintage platinum setting (1940-50's). I called for a quote for the sizing beads and they said they would also rhodium plate the ring after the work has been done. I am wondering if this is actually *truly* necessary, or if they are looking to add another charge.

I really like the deeper tone of the platinum as it is now and am afraid a 'bright shiny new' plating will cheapen the look of the platinum and would rather skip that part of the repair. I prefer unplated white gold and the deep tones of platinum, so am concerned I'll hate my ring if they insist on plating it.

Is there any 'good' reason my ring would 'need' to be plated after a repair? How does rhodium plating affect the look of vintage platinum? Will it wear off quickly?

Any input?

Thanks!