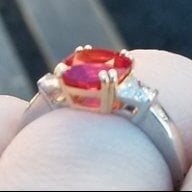 Joined

Nov 3, 2009
Messages

7,589
I am always looking at my sapphire from Gary Braun and feeling a touch of remorse. He is lying there in the box, alone, patiently waiting to be set... and someone always comes in front of him.
It is really a nice stone. Trust me, I love sapphires and hence I bought only two and sent back a few. He has everything a sapphire should have. The color is velvety blue, there are some silk inclusions in it, a tad of violet so there is not a hint of grey. He holds color in all lights.
But I had bad experience with Jeff White's sapphire. A beautiful stone, unheated, well-cut, the only difference is that it changes its color in different lights but it would be OK had it not been spoiled by a halo setting. It is just a halo, not a bezel, but closing it from all sides darkened the stone and drastically decreased its performance. I am looking for a different setting for the stone but first I want to set Gary's sapphire.
Here are pictures. Taken at the time when I wanted to pair it with orange spessartites. Now I decided to go the traditional way and use diamonds but I need lots of advices as to what I can do and what I can not do with it. Can it stand halo'ing? Two large trilliants on the sides? Is it better to go with small round brilliants?