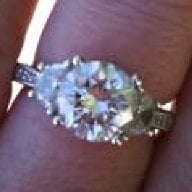 Joined

Jun 18, 2010
Messages

5,765
It seems that most weddings include both the questions of intent (which are required by law) and the vows. The questions of intent are where you are asked if you are willfully entering into the marriage, and you answer either "I do" or "I will." That is followed by the vows, so it looks something like this:

Minister: Before you exchange vows, I ask that you both affirm your intentions.
John, do you take Jane to be your wedded wife? (I do) Will you love her, comfort her, honor and keep her, in sickness and in health, and forsaking all others, be true and faithful to her as long as you both shall live? (I will) Bride repeats the same

Minister: In that you have affirmed your intentions, please now join hands and repeat after me.
John . . .

I, John, take you, Jane, to be my wife, my constant friend and my love. In the presence of our family and friends, I offer you my solemn vow to be your faithful partner and your endless love. I promise to love, honor and respect you, to laugh and cry with you, and to cherish and put my trust in you. I give you my hand, my heart, and my love, from today until eternity. Bride repeats the same

I know you can do what you want...but would it be weird to not have both parts? We would like to combine the vows and the questions of intentions into one. My fiance doesn't want to have to repeat anything, he'd rather just say "I do." Something like:

"John, do you take Jane to be your wedded wife? Do you promise to love, honor, and respect her,.........? And at that point say "I do."

Or is that weird?