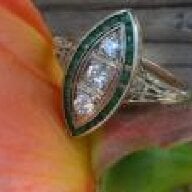 Joined

Aug 5, 2010
Messages

12,763
So I have some rings I inherited from my grandmother and great grandmother. In another thread, I discussed them, particularly my Grandma's ring (pictures to follow). I remember growing up with that ring. She talked with her hands, so I was always looking at it, partly because it was a
diamond
ring (and few women in my family had them then or have them now) and partly because it was always flying about. When I think of Grandma I think of that ring.
So I have inherited the ring. It is a typical, simple setting of its time, platinum with a center stone which I believe is about 1 carat close to free of inclusions. I have not had it appraised, but people who've casually looked at it seem to think its a nice stone, not something that would break anyone's bank, a starter stone. I have worn it once or twice on my middle finger (she was large), and while I love its sparkle, it does not fit me or my middle finger. So what do I do? What have you done in situations like this? I feel like Grandma is here because I have her ring and a piece of her. On the other hand, I will never wear it. Do I keep it "as is" in her memory, or will her essence, aura, spirt stay here if I take the diamonds out and reset them?
I am sure many of you have been in similar situations. What have you done?
I am posting this here because while it pertains to a diamond, the question could be about any colored stone heirloom...