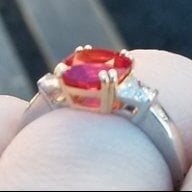 Joined

Nov 3, 2009
Messages

7,589
It is a far-fetched project, I decided to reset my Jeff White's sapphire for better performance, I think current halo does not compliment it. I saw a ring at Scholdt that I liked, but it is made for princess-cut diamond, and although they say that they can accommodate a stone of any size, I doubt that many customers come with 3+ ct. diamonds in their pockets (I may be wrong here). I just do not know how expensive their settings are, is it worth even showing up asking to look at a sapphire because the price will be exorbitant? Or are their prices decent?

Here is my break:

below 2 K - decent
2 -4 K - doable provided the workmanship is really classy
over 4 K - you'd better be really, really worth it! Innovative setting + excellent workmanship.