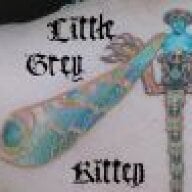 Joined

Nov 27, 2007
Messages

2,975
So my little 14 year old Rat kitty has been sick with what I thought was the sinus infection from hell for months. It's been really, really bad- the zillions of antibiotics have done pretty much nothing; he gets a reprieve from the snot for a few days but his breathing is no easier and then it's right back to horrid in about three days. Basically, he's snorting constantly, mouth breathing most of the time, and dripping mucous non stop. (Which is awful for him, and for his humans; I've ended up designating a Snuggie as "Rat's", so he can sit on me and cuddle and get it, not my clothes, covered in snot.)
He's lost about a pound and a half which is WAY too much- he's down to 5.5lbs now with 7 being his normal weight for years.
He does seem to be fairly perky still- I mean, he's annoyed that he can't breathe well sometimes and will hunch unhappily some of the time, but otherwise he's happy, cuddly, and feisty and isn't, like, hiding and acting sick.
Anyway, he went to the vet for another antibiotic about a week ago, a shot this time since he's hell to pill and a Prednisone shot to maybe help him gain some weight back. Anyway, my husband took him in and the vet tech, not the vet, saw him. (I think this is the fourth course of antibiotics.)
The vet called me a few days ago and said that the tech that had seen Rat said he's got facial swelling. I didn't believe it at first- I couldn't see it I guess, since it happened so gradually- but I realized after I hung up the phone that indeed, one side of his nose and cheekbone is swollen, fairly badly, I'd say at least a half inch- like where the side of his nose should be indented, it just... isn't. I know the vet had told me, when his sinus infection proved really stubborn, that it could be a tumor and to watch for any facial distortion/swelling, and I am feeling kind of terrible that I somehow just didn't see it until it was pointed out.
Anyway I called the vet back and he wanted Rat in again on Monday to see him himself, which is the plan.
So. The question I'm finally getting to is- can the swelling he has be an effect of a terrible sinus infection? Or do I need to brace myself for really, really bad news on Monday? I admit I'm trying reaaalllly hard not to freak out- and failing because Rat's my special guy I've had since I was 19 and he was always super healthy and, and, you all understand I'm sure. I can't bring myself to Google search on this one- if anybody here has any idea or even wants to Google for me I'd be really grateful.
Rat's currently getting *lots* of Snuggie-drooling time which is just fine with him- he can spend literally hours kneading and drooling with his head tucked under my chin, and his paws stuck as far into my hair as I'll let him. I had five days off this week- two at home- and Rat got so much Snuggie time, he's gonna be ticked when I go back to work tomorrow and he can't spend all day sitting and drooling on me.