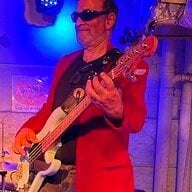 Joined

Jan 7, 2009
Messages

9,325
Hi All!
Recently, someone who''d purchased a diamond of ours on the second hand market, asked for some assistance as they knew we were the original seller.
The buyer had gone to an appraiser who assigned a value which seemed unrealistically low for a replacement value. This is based on our experience of the current market. It''s an unusual fancy colored diamond, so comparables are quite difficult to find.

This has only happened once before that I can remember, and I was sitting right there. The client asked us to go to the appraiser with them.
In that instance the appraised value seemed way to low.
I asked the appraiser how he''d assigned the value. He was appraising a Vivid Yellow, and since he could not find a comparable Vivid yellow, he simply used an Intense yellow for reference.
When I pointed out to him that a Vivid can go for double what an intense can, he immediately doubled the value.



I honeslty feel that most recent case, the appraiser is seriously undrvaluing the stone- which does not help the buyer..... even if she''s not our client, I''m tempted to call the appriaser and ask how he made his evaluation.
But I don''t want to cross a line I should not.

AS a general rule, what''s the proper course of action if a seller disagrees with an appraiser''s evaluation?