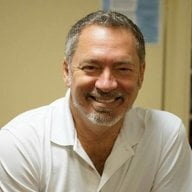 Joined

Mar 28, 2001
Messages

6,335
Hi Serg,
I was attempting duplication of a stone and got it down to the exact numbers. The stone is graded by AGS as an "ideal", and measurement on the OGI further confirms that as well.
It accurately portrays it''s LightScope image counterpart and I believe the measurements are all right on excpet in the DiamCalc software it lists the stone as an AGS "3" due to girdle thickness.
OGI reports girdle thickness at the valley is 2.2 and at the bezel 3.9% AGS and OGI report the girdle as being ideal (slightly thick) yet the Diamcalc says the stone is a 3 due to girdle thickness.
Is there a reason for this I don''t understand? Here is the pic (below). The stone is in our "For Sale" section if you''d like to compare.
Kind regards,
Rhino