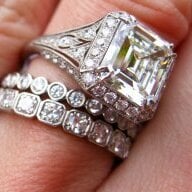 Joined

Jun 29, 2006
Messages

1,155
Hi Mara!
I have a quick question for you. I know you and your hubby got married in HI and we are too. Well we are going to Maui in about a week and meeting w/ our wedding coordinator. We will be doing our cake flavor tastings and she sent me a list of the flavors to pick from. Do you have any recommendations for filling flavors? I was thinking of doing buttercream frosting or ganache (you mentioned in a previous post to me that Fondant isn''t good to use there w/ the heat). I do need to find out though if they can make ganache in white chocolate.
We will be having 4 little cakes made w/ the flavors for our taste test.
Here is the list the planner sent me w/ flavors:
Maui Wedding Cakes Flavor Choices:
Cake Body: Our basic choices for cake body are White Sponge Cake, Dark Chocolate Cake, or Marble. We can also make Carrot Cake or other special orders.
Fillings: Our choices for fillings included in the basic prices shown
are: Vanilla Whip Cream Custard; Vanilla Whip Cream Custard with a
layer of Raspberry; Vanilla Whip Cream Custard with a layer of Lilikoi
(Passionfruit - a big favorite); Chocolate Mousse; Chocolate Mousse
with a layer of Raspberry, Raspberry Mousse, Whip Cream or Mocha.
Other fillings available that carry an extra charge are: Banana Cream,
Pineapple, Coconut, Macadamia Nuts, Guava, Lemon, Strawberry Mousse, White Chocolate Mousse, Tahitian Vanilla, Fresh Strawberries,
Raspberries or other fresh fruits. Cream Cheese filling is available
for carrot cakes.
Icing: Our Italian Buttercream is light fluffy and not overly sweet.
Fondant is like a "sugar playdough" which is rolled out in sheets and
smoothed over cakes giving them that perfect matte finish. It adds
quite a bit to the cost of the cake as it is tricky and time consuming
to work with. We can make a Chocolate Buttercream, which has a mocha coloring to it. Chocolate Ganache is a liquid pour of rich, dark,
shiny chocolate.
Thanks so much for your help! My fi and I are so excited to be going to Maui soon and get the planning started.
Oh and BTW - I had my hair done by Karen and she did a great job! And I also checked out Le JJ Belle nail salon over by SCU and they did a great job on my eyebrows.
Thanks again!