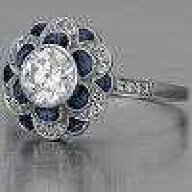 Joined

Jan 31, 2009
Messages

113
I''m debating between two styles for a custom band to go with my e-ring. Some might remember that I mentioned I''d underestimated the importance of matching bands to my Hin3 (husband in 3 months!

), so what we decided was, we''d get matching bands (we like "the gatsby" at greenkarat), and then in addition, I could get a shadow band of sorts in the gatsby style to go with my ring when I want to wear them together, and I can wear the regular band when I don''t or don''t want to wear my e-ring at all.
Basically, it comes down to a bigger or smaller gap between the bands. I like a little gap, I don''t want them to appear flush. I''m leaning toward the smaller gap just because I don''t have very long fingers.
So.... here''s a (super super) rough sketch of the two I''m thinking about: