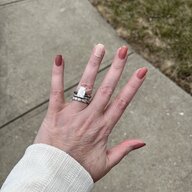 Joined

Apr 7, 2017
Messages

5,207
I was exactly 1 mo shy of my 25th birthday when I gave birth to my son. I had just celebrated by 35th Birthday 21 Days before my daughter was born. My babies are 10 years apart.
I was 38 when I met DH's children, and I was 41 when I became their step-mother.
All together, we have 6 awesome kids:
Boy: 21
Boy: 19 (attending college)
Boy: 18
Girl: 17
Boy: 15
Girl: 9
No grandbabies, yet. Not rushing that, either....lol! Plenty of time for life to happen for them. The college student is my son, who is pursuing a Pharm-D, and wants to get into Compound Pharmacy. He's found a lovely lady, who shares the love of playing Lacrosse (they both play), and he seems content with his life, at the moment.
DH's daughter is in a committed relationship, and is looking forward to graduating HS, next year.
Everyone else is enjoying life, working or going to school, and figuring it out.
DH & I are looking forward to our adventure as a couple, before we are grandparents; we've always been "Mom & Dad". We are looking forward to being husband & wife...all alone...lol!
We are hoping, at some point, to move forward into the next phases of our childrens' lives, when that time comes.
I think I'd be a fun Oma!!