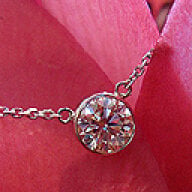 Joined

Oct 30, 2002
Messages

31,003
One of my girlfriends the other day who used to work in a jewelry store when she was younger told me that pretty much any B&M or jeweler will take a stone as a trade-in towards an upgrade of a larger stone, providing that the new purchase was worth it for them.

My question for the trade members here...since we have so many...is that true from your opinion? I ask the question for a personal reason but also figured it would be good to post this for others as well. We bought our stone offline, but I have to say that in the future should we decide to upgrade the stone, I would really love to buy online. Do I have a chance of an online vendor taking my stone as a trade-in towards a new stone? Or because it''s not considered ''ideal'', would it be difficult for them to sell (e.g. if I wanted a SuperbCert or

ACA

or a

GOG

stone?) because their inventory is mostly made up of excellently cut AGS0 stones?

Also, what is the norm for trade-in value and amounts to purchase? I have heard you normally need to spend at least 1x what you spent on the original stone. For example if the original stone was $7k, then you''d spend $10-11k on the new stone. Some places require double, so you''d spend $14k on the new stone, but really be paying the amount minus the original $7k. Is this true?

I love my stone but of course would love to upgrade in the future, and our stone was bought with this in mind originally anyway....and just wonder what my options may be in the future, since we purchase the stone offline...and while our offline jeweler would most likely happily trade in our stone at original purchase price to have us spend $$$ in his store, I am not sure I''d want to buy offline again. So what are our options?



Thanks!