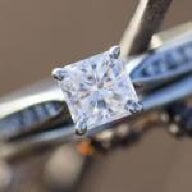 Joined

Jan 18, 2011
Messages

499
We've been looking at houses for the last few months and nothing really jumped out at us since our short sale fell through. We offered on a short sale a few months back, had our offer accepted, and then found in the home inspection that it was way more than we bargained for.

Sunday morning we went to see three more houses (after seeing about 30 since the last offer we put in, in person and hundreds online) and the first one was it. It is the one. We fell in love immediately, went to see the other houses just because, but we had made up our mind, the first house needed to be our home. We got permission to re-enter later in the day with our parents (3 hours after we had left before) to get their opinions/blessing before offering since we're first time home buyers. The parents all absolutely loved the house and said it was flawless and to jump on it. We had our offer drafted up and submitted by 4:30 PM.

We offered the list price and asked for assistance with closing costs. We are willing and able to pay all $10k of the closing costs, but we would prefer to get a little help with that, especially since we'll need to pay about $3k to break our lease at our apartment. If they counter we will accept whatever they counter. This house is 100% move-in ready.

We're a little nervous because we know that they had another showing scheduled for tonight. We're hoping that we don't have to worry about any competing offers.

For those of you who are homeowners-- how long did it take you to hear back from submitting your offer? We're going on vacation next week and are hoping that it's possible to get the home inspection done before we leave.