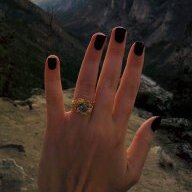 Joined

Jan 29, 2016
Messages

159
Hi Everyone!
I was wondering if anyone has any expertise in purchasing keshi pearls online? I say otherwise because I live in rural Montana and there are not a many specialty pearl dealers in my area.
I fell in love with a gorgeous strand at the jewelry store that I work at, but they are, naturally, pretty far out of my price range even with an employee discount. Since I've made plenty of friends and family's wedding jewelry, I'm going to make my own (with the guidance of our jeweler who also owns the store). Normally I'd just ask her what she thinks, but we're closed until after the new year and I'm getting really excited to FINALLY be able to make my OWN wedding jewelry. I've been attempting to do research, but am not finding out very much. Does anyone know of any reputable dealers? There are plenty of beautiful keshi pearls on Etsy and Ebay, but how will I know that they're quality pearls and not junk? Is there anything in particular that I should be looking for? Price ranges vary wildly and where I know that you pay for quality, I don't want to spend $$$$$ on pearls when I can get ones of equal quality and beauty for $$$.
The final necklace that I'm hoping to make will look something like this, but possibly with whiter pearls (or not, these are really pretty)
.