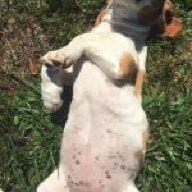 Joined

Dec 27, 2013
Messages

2,740
I am trying to compile a list of commands to teach our new puppy. I would like to teach her essential commands plus some fun ones too! She's already enrolled in two dog training classes which we just started. One will cover the basics like sit and down. The other one will cover things that help to build confidence. (Ex. This first week is a whipped cream game, crate game, etc).
I do plan to train Poppy for therapy dog volunteer work so it's important that we train a lot during her first year.

I am hoping some PS members will chime in with helpful ideas.
I am curious as to what commands/hand signals your dog knows?
What do you consider the most important ones?
Which ones do you wish you would have taught?
Did you take classes in person, online or train your dog yourself?
Feel free to add pics or join in if you've taught your cat or other animal commands.