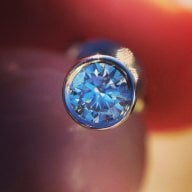 Joined

Jul 7, 2004
Messages

10,763
So I just got home from a fun girls weekend in Minnesota, Mall of America and the like. While at dinner last night at Mall of America someone actually stole my iphone! If it was on the floor near my chair they picked it up and walked off but from what we can figure out, they actually grabbed it from my purse. My friends and I are wondering if they were actually going for my wallet and it was on top, OR if it really fell out and they just snatched it. We noticed it within 10 minutes and I went running to the AT&T store, to track it, thankfully a half hour before closing. We got into the find my iphone thing, and saw it moving down the highway. The guys at the store were HILARIOUS with me sending messages and remote locking. We tried to wipe it but clearly they opted to turn it off at that point. I had a warranty and applecare, but not actual insurance on it, which is unusual for me since I usually have it. So they were going to sell me a new one for $450 as a courtesy, and my friend chimed in and said "just use my upgrade". I feel like a jerk for using it, because I could afford the price. So since she needs a new one (hers is 1st gen right now and destroyed!) I am going to pay for her replacement since I can't get an upgrade til Feb and I don't think her DH will willingly share his!

So I added the insurance on mine and they allowed me to add it to DH's and I also cancelled my secondary warranty to get a refund and will rebuy later (Squaretrade). I am told AppleCare covers stolen within the first year but I can find nothing that proves that, and when I went back to Apple today to get a replacement hardcover for the one I had JUST BOUGHT hours prior to the theft, they did not seem to know what I was talking about.
So learn from this: BUY THE INSURANCE. It's worth the $10 a month to not nearly lose your mind in Mall of America.