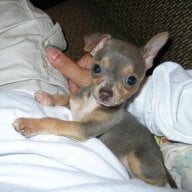 Joined

Dec 16, 2007
Messages

5,184
This post is specifically for Sprint wireless users who have not yet paid their January bill...

Sprint has increased the administrative fee on their service from .79 to .99 cents...which voilates the terms of your contract. If you are unhappy with Sprint and looking to change providers but dread the cancellation fees, you''re in luck! If you haven''t yet paid for your January services (mine hits on Feb 14th) you can call Sprint and tell them that you want to be let out of your agreement per the changes they have made....and they will do it!!

Mark and I wanted to switch to AT&T and did so this evening, and also cancelled our Sprint service at no cost to us even though we renewed our contract in October!!

Now, you will have to defend your position several times...but, at the end you''ll be free and clear to leave and move on!

However, if you have paid your January bill, you''ve more or less agreed to the changes and you''re still contract-bound.

Just thought someone might want to know....