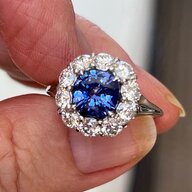 Joined

Aug 18, 2013
Messages

7,834
I'm currently on a plane as I type this and figured all the ladies here could do with this useful tip. Warning you now - it's going to start with a tad TMI....

Today I'm wearing a beautiful new bra. (See? I told you! TMI!) It's light purple lace, and it's embroidered with tiny silver flowers in metallic thread. It's gorgeous! (We're really going from bad to worse at this point, aren't we?!)

Unfortunately, when I went to the airport this morning, and walked through the scanner....I got pulled to one side and told I was setting off the entire machine in the chest area!

Yep, you guessed it! Airport scanners pick up metallic thread!

So ladies - a PSA: if it sparkles, don't wear it on the plane!!

Fascinating - yet NOT cool to have to stand, blocking the security line, explaining to the nice lady that I was wearing some nice, sparkly new unmentionables!