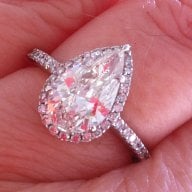 Joined

May 23, 2010
Messages

6,731
I just wanted to pass this recipe on, because it works really well for me. It seems like it would be safe for kids, too. I kind of made it up, so let me know if it does or doesn't work for you, please. We have no-see-ums and mosquitoes around our yard all the time, and they will light on me, and fly off, but they don't bite or sting when I use this. I think it confuses them on a molecular level.
Spray bottle with 7-8 oz of non chlorine (non hard) water
in it. Bottled water or RO system water if you have it. Chlorine and hard water will break down the oil and/or soap, so go bottled.
1 tablespoon cooking oil
(vegetable of some kind, probably not olive oil).
1/2 tablespoon Dawn dish liquid.
Pretty sure it has to be Dawn, it has a very high surfactant level.
Put it all in a spray bottle and
shake it
constantly during use. Spray on arms, legs, etc. Not sure if I would use it on my face. The oil and soap make a slight film (which you really can't feel on your skin) that clings and makes your pores inaccessible to bugs. I sprayed it on lightly (not so much that I was greasy or anything), and sure enough, the mosquitoes can't figure me out and fly off.
I didn't find it irritating either.
I based this concept on the (years ago) Skin So Soft by Avon, that Floridians used as insect repellant. Everyone swore by it, until Avon changed the formula. This basically does the same thing; confuses the insects on a molecular level.
Thankfully, it also washes right off, easily, with the faucet, hose or a shower.

I wouldn't touch Deet with a ten-foot pole, because it is just so toxic.

Try this and please let me know
if it works as well for you as it does for me.